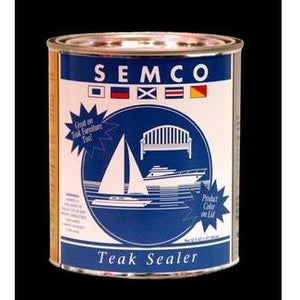 Semco Teak Wood Sealer Quart Honeytone
SEMCO3-LA
Regular price $ 79.99 $ 48.35 Sale
📦 We have 40 in stock.
🚚 Delivery Expected Within 1 to 5 Working Days (see map)
Semco teak sealer provides long lasting natural looking protection. Lasts through the season and can be renewed without deep cleaning or stripping for years! Repels water without being slippery. Relieves the drudgery of constant teak maintenance. Known the world over as the best protection for teak.
SEMCO Teak Products are sold in quarts and gallons.
Semco Coverage:  Approximately 8-10 pieces of furniture per gallon for initial 2-coat application.  First coat will cover approximately 200 square feet; second coat will cover approximately 400 square feet per gallon. For just a handful of pieces, a quart will suffice for 1 to 2 applications.
Preserving the teak with SEMCO Teak Sealer
If you wish to preserve the natural honey color of the new teak then seal your teak furniture with SEMCO Honeytone Teak Sealer.
The Teak Sealer replaces teak oils that were used on teak. There is no such thing as "Teak Oil". Products sold as teak oil are just linseed or tung oil mixed with solvents. Products such as varnish and polyurethane will peel and chip and are all but impossible to remove from intricate teak furniture.
Why?
The teak is protected by its own natural oils that migrate to the surface of the wood. The elements oxidize this oil, turning the wood gray and promoting the growth of mildew. SEMCO Teak Sealer contains UV protection and a mildewcide to prevent this process.
When?
The furniture should be allowed to weather for a couple of weeks or washed with a strong detergent prior to sealing.  Chic Teak furniture comes with a wax coat applied and may take an additional few weeks to wear off. It is okay for the wood to get wet and be outdoors during this period. This process will remove the waxy feeling  of new furniture which occurs when the natural oils have been polished or burnished by the sanding and milling process during manufacture. Failure to remove this mill glaze will result in a blotchy appearance and early failure of the sealer protection.
How?
Be sure the wood has weathered two weeks or has been washed and is completely dry before sealing. See the can label for complete directions.

Apply the sealer using a plastic spray bottle, brush  or rag. Apply liberally and wipe off the excess with a rag. SEMCO Teak Sealer is not a sticky finish and can be applied at almost any temperature. There is no need to be concerned about brush strokes or lap marks. The first coat will dry in under an hour.

Apply a second coat when the first coat is complete. Be sure to apply both coats in the same day. The furniture will be dry to the touch in a few hours and can be placed in service the next day. Two coats are all that are recommended for new or restored furniture.

Enjoy your furniture, knowing that is protected by the finest teak protection available
{[{GetTitle()}]}
{[{item.Title}]}
{[{item.Price}]}